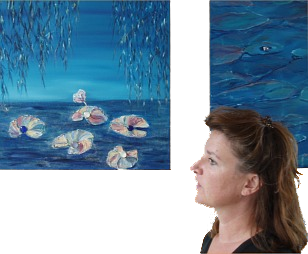 Marie-Pascale Devignon-Tripp was born in France and has been living in the north of Hesse since 1999. Her studio is in Wolfhagen- Wenigenhasungen.

After her arrival in this area she joined the group of artists named "EN BLOC".
She studied German and History of Art at the University of Dijon and the subject of her dissertation was "Kandinsky and the Blue Rider". During this time she went all over the world visiting museums - in Paris, Berlin, Munich and New York, only to mention a few.
Art is in the eye of the beholder

She is a globetrotter who has loved international exchanges since her very early years. She is able to speak several languages fluently and enjoys seeking out places where different cultures intermingle. She has always considered herself a cosmopolitan and this is reflected in her work where one has the feeling that frontiers melt together.

One can dive into her paintings like into a kaleidoscope, one looks at her pictures as at a collection of holiday photos all showing the same object but from a different angle. In some of them one finds elements of surrealism and cubism, in others the shapes are more subtle, more impressionist. All in all, she has many possibilities at her disposal, depending on how she wants to express her memories.

She takes part in regular educational tours to places with different cultures, always on the look out for new themes. "I find myself particularly inspired by the light of the South." she says.

She has worked with various techniques, such as water colours and pastels, but now mainly works with oils. "I find oil colours so rich and vibrant. They seem to give me more scope to express myself."

"Marie-Pascale Devignon-Tripp's work is influenced by her personal impressions and experiences. The intensity of her feelings is expressed by the strength of the colours and the partly surrealistic elements in her paintings. Art as an expansion of the conscious and an attempt at understanding the nature of entities. Are the surrealistically formed landscapes an image of her idea of a world into which she is inviting us? A world between artistic aspiration and social reality."
Jens Freitag (TEO design), Kassel

Art critic by Lori Waxman, 25/07/2012: "60 WRD/MIN ART CRITIC" in the course of the dOCUMENTA (13)